Christmas donation for school associations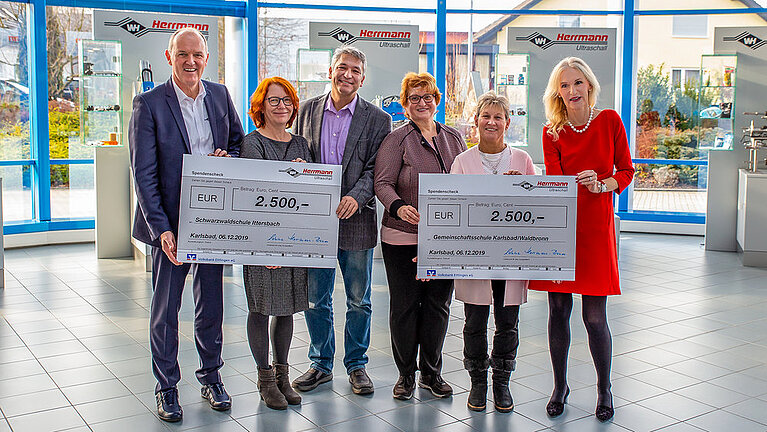 "Herrmann Cares" supports educational projects
This year's Christmas donation in the context of our charity initiative "Herrmann Cares" is intended for education and goes to two schools in Karlsbad, Germany, to make subject-related project days affordable for all students.
The Schwarzwaldschule Ittersbach receives € 2,500, where the association supports the following projects: regular lunch for all students, drum lessons, seminar days in the Black Forest. The community school Karlsbad-Waldbronn also receives € 2,500 as a financial subsidy for families who cannot afford all the costs for the planned study trips to England and Berlin. Both study trips are firmly established projects in the field of language as well as history and social studies. Reading projects could also be supported - there would be regular author readings, according to the Rector of the Karlsbad-Waldbronn Community School, Ulrike Frank, who, together with her colleague Petra Roth from the Schwarzwaldschule Ittersbach, was happy about the donation.
The initiator is Michael Nowotny, who advises both school associations and also works together with Herrmann Ultraschall on the topics of the Round Table on Asylum.
Picture from left to right:
Thomas Herrmann, Herrmann Ultraschall
Frau Petra Roth, Schulleiterin Schwarzwaldschule Ittersbach
Michael Nowotny, Mitglied und Berater der Fördervereine
Sabine Stolze, 2. Vorsitzende Förderverein Gemeinschaftsschule Karlsbad Waldbronn
Ulrike Frank, Rektorin Gemeinschaftsschule Karlsbad Waldbronn
Sabine Herrmann-Brauss, Herrmann Ultraschall